Cleaning Blocked Drains Perth
Do you have a clogged drain in your kitchen or your bathroom?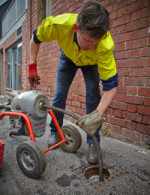 Is there standing water over the drains or is the water overflowing back to the bathroom?
Are you looking for professional help to get your drains unblocked?
A drain can be blocked by anything, like debris, oil, tree roots or residue building up inside the pipes. It is not something that you should ignore because initially it might seem a trivial issue, but later, the only solution left is to change the pipes.
A.Able Plumbing has a team of qualified, experienced plumbers who are equipped with every tool that is required to unclog your drain with ease. We are armed with CCTV cameras, plungers and every other tool in our truck. It requires professional skills to successfully unclog a drain without causing any damage to the pipes.
The longer you ignore the early symptoms of a clogged drain, the more you are adding to the repair cost. Here are the symptoms you should be mindful of:
Slow drainage of the kitchen sink water
Standing water in the bathtub
Water overflowing from a sewer
Foul smell from the drains
Even though it is easy for you to remove the heaps of loose hair or junk from the drainage pipes, but it sure isn't a job for you. You can always hire professional help because we believe in keeping the surroundings clean and healthy for you & your family. We can clean any type of clogged drains in your kitchen, bathroom, or sewers to ensure seamless flow. There are many home remedies which can help you resolve a clogged drain yourself, but it is simply for the initial stages and won't stand effective once the problem becomes serious.
Our expert services are extremely affordable to suit the needs of every household; aiming to unclog all blocked drains in Perth because a clean environment is a healthy environment. We believe in building a long-term relationship with our clients, which is why, we offer a free call-out service and to ease the payment process, we take credit cards as well as cash for our services. All our plumbers are qualified and certified to ensure A-grade services to all the clients. We offer 100% sewer and drainage maintenance services with assured positive results.
Get in touch with us and avail our amazing services to successfully unclog your drains and keep them clean.