Cleaning Blocked Drains Perth
We know that  blocked drains can be a major headache and disruption. At A. Able Plumbing, Gas & Hot Water we have tons of experience in working with all sorts of blocked drains in many different types of buildings.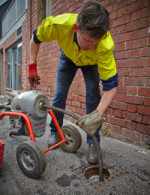 A blocked drain can be caused by many issues from debris, oil, and residue building up in your pipes, all the way through to the forces of nature and tree rots crushing or breaking a pipe.
Having the right tools and equipment such as a CCTV camera are important for any plumber working on your blocked drain and something our team of plumbers at A. Able Plumbing, Gas & Hot Water are armed with in every truck.
From your bathroom and kitchen to your sewer line and storm water lines. The friendly team at A. Able Plumbing, Gas & Hot Water can clear blocked drains of any sort in the Perth area.
When it comes to your blocked drain, the message from leading Perth plumbing experts A. Able Plumbing, Gas & Hot Water is simple – don't leave it too late! Too often, people ignore a blocked drain when problems first appear. That means serious damage further down the line, with serious expense. In many of these cases the plumbing problems are so serious that the blocked drain cannot be unblocked and have to be replaced.
The moment you notice standing water in the tub of your bathroom or slow drained kitchen sink water, take it as the result of having a clogged drain. A clogged drain can easily be cleared with regular household items if you are fortunate enough to notice it at its initial condition, or else there is a huge need of technicians to tackle blocked drain in Perth.
It is always easy to remove heaps of loose hair and junks from the surface of pipe or drain and let the water drain back again. But trouble arises then, when main sewer line clogs. Experts are called by then to unblock the blocked drains in Mt. Lawley.
Here at A. Able Plumbing, Gas & Hot Water we provide a regular drain cleaning and sewer maintenance programme, tailor-made to your drain cleaning requirements. As leaders in the Perth plumbing industry our professional plumbers will prevent blocked drains and save you the stress and costs that go with them.
Our drainage and sewer maintenance and drain cleaning programme gives you control, saves you money and offers you peace of mind. Using the latest technology to clear your drain, we can easily diagnose the cause of your blocked drain – and clear it quickly and efficiently. Whether you have a blocked drain, a leaking drain or problems with tree roots our expert plumbing services use cutting edge equipment to solve the problem fast.